Here's a trivia question for you. What do Taylor Swift, Gwyneth Paltrow, and Hillary Clinton all have in common? They were all Girl Scouts. Today is March 12 and the organization is turning 106. We thought that made this as good a time as any to see how much you know about the Girl Scouts...
Who Founded the Girl Scouts?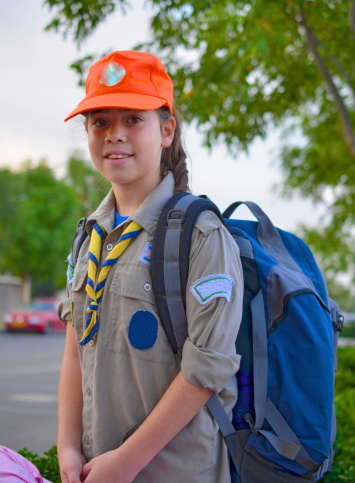 Possibly one of America's next great historical figures. We'll just have to wait and find out. Juliette Gordon Low was a widow in the early 1900s who found herself unsure of what to do with her life now that her husband was gone. She was at a luncheon in London where she happened to be seated next to Robert Baden-Powell (or B-P as he was known). B-P had recently started an organization called the Boy Scouts, but he had a problem: Girls wanted in so badly they were signing up for troops using their initials so no one would know they were ladies. Suddenly, Low knew how she was going to fill her free time. She raced home and called her cousin, saying, "Come right over! I've got something for the girls of Savannah, and all America, and all the world, and we're going to start it tonight!" Turns out she was right.
What was the Initial Girl Scout Policy on Minority Members? 1912 was a time of segregation and discrimination, but not in the Girl Scouts. Low envisioned an organization open to girls of any background. According to the Scouts' website, Low "Ensured that African-American, American Indian and Hispanic girls were able to become Girl Scouts. She led efforts to make Girl Scouting available to girls who lived in rural and urban areas, to girls who were rich, middle class and poor, and to girls who were born in this country as well as immigrants." Martin Luther King Jr. called Girl Scouts, "a force for desegregation."
What Was the First Girl Scout Cookie Variety?
The first Girl Scout cookie variety was the sugar cookie. Originally, Girl Scouts would bake their own sugar cookies and sell them door to door. The first cookies were sold in Oklahoma in 1917 as a fundraiser for one troop. The original sugar cookie recipe was pretty plain, even if it was very tasty. In 1936, the Girl Scouts licensed the first commercial baker to start making Girl Scout cookies. It wasn't until 1939 that the cookies came in more flavors, including the precursor of the Thin Mint.
What Effect Did the Two World Wars Have on the Girl Scouts? During both World War I and World War II, as well as the Great Depression, the Girl Scouts of America jumped into action, supporting war bonds and gathering food and clothing supplies. Girl Scout skills were updated to include air raid survival, and the organization put its cookie program on hold when basic foods were rationed; they sold calendars instead. The girls volunteered where they could, from hospitals to mass collection efforts for peach pits that would be used in gas mask filters.