On March 13th, 1852, the New York Lantern debuted a new cartoon character: Uncle Sam. Through the years, Uncle Sam's picture has become almost inseparable from the personification of the United States, though it wasn't always that way. Here are five facts you might not know about Uncle Sam...
#1. A Meat-Packer Inspired the Name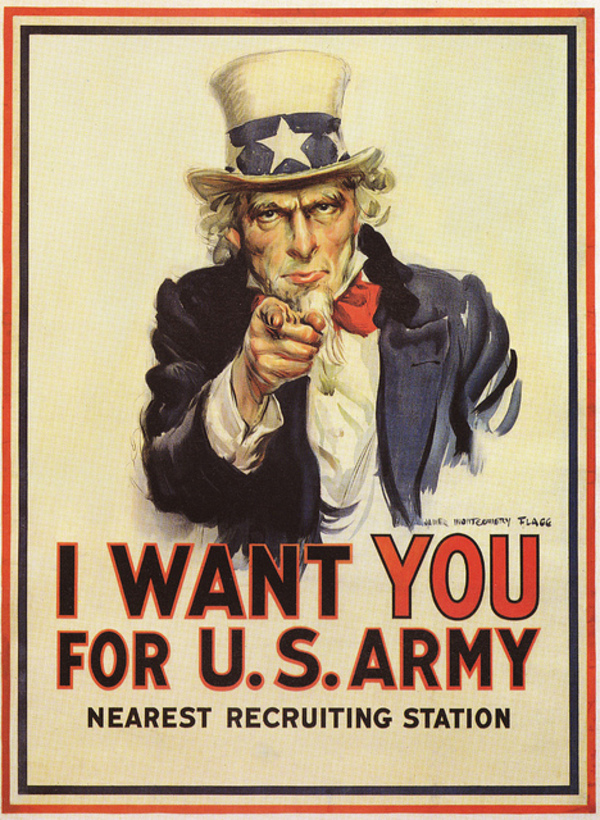 James Montgomery Flagg's image of Uncle Sam became the best-known of several versions that were refined over the years. Photo source: MCAD Library/Flickr Many historians attribute the term "Uncle Sam" to a Troy, New York, businessman, Samuel Wilson, whose friendly manner earned him the nickname "Uncle Sam" to his friends and customers. He supplied beef to the Army during the War of 1812. The beef was delivered in barrels stamped "U.S." for "United States," but the troops took the "U.S." and expanded it into Uncle Sam. The nickname caught on.
#2. Uncle Sam Got His Beard From the Same Guy Who Drew Santa Claus Thomas Nast was a political cartoonist who was also responsible for drawing many of the symbols we recognize today. Not only did he create the image of Uncle Sam as a bearded man, but he also created the donkey and elephant symbols for the Democrats and Republicans, and he was the one who created the image of a jolly bearded man that we now know as the image of Santa Claus.
#3. The Most Famous Version of Uncle Sam Wasn't Created Until 1916 Uncle Sam has been through more than a few makeovers, but his most famous came in 1916 when an artist named James Montgomery Flagg drew him for the cover of a weekly magazine. That image was reprinted on a recruiting poster during World War I with the tagline: "I want you for U.S. Army." That image and line became inseparable in people's minds, and it's persisted as one of the better-known images of Uncle Sam.
#4. Uncle Sam Had Another Competitor The 1852 drawing of Uncle Sam was not the first time that someone had tried to represent the U.S. as an illustrated person. Another symbol in popular culture was Brother Jonathan, which originated in England as a derogatory reference to Puritans, then to New Englanders, then to colonists in general. The name caught on and spread to editorial cartoons on both sides of the Atlantic.
#5. America's symbol wasn't always a man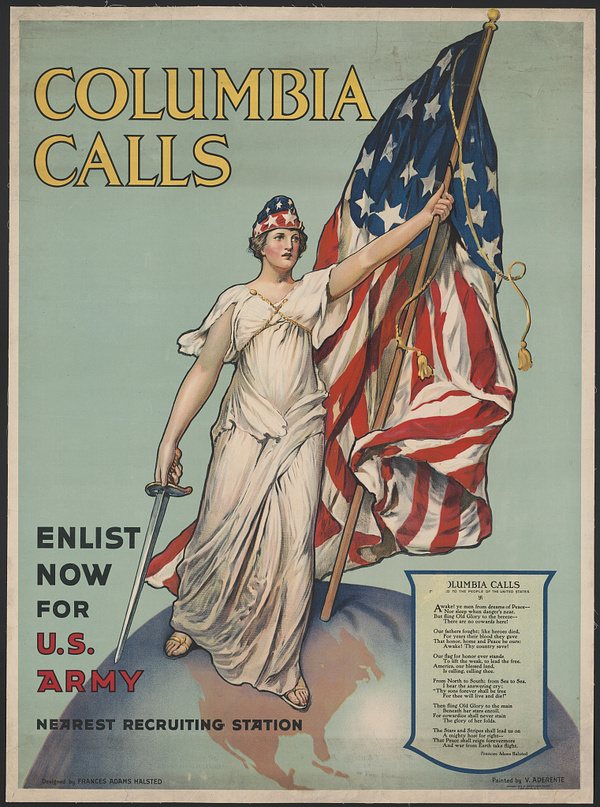 Columbia, a female figure often shown in flowing gowns, was the original personification of the United States. Photo source: WikiCommons When the United States was very young, it had a human symbol—a figure of a woman named Columbia. Named after Christopher Columbus, this figure is sometimes shown wearing a Greco-Romanish-type flowing gown in different scenarios. She was first developed in the 1690s, but in 1775, a former slave wrote to George Washington, calling the figure Miss Columbia. Miss Columbia was the subject of statues, names, and even political cartoons in the War of 1812. Columbia didn't disappear when Sam came on the scene; on the contrary, companies like Columbia Records derive their names from hers. But why she eventually faded from popular culture, other than as a museum statue or old name, is unknown. One theory says that after World War II, the macho Uncle Sam figure was more representative of the U.S.; another says that her image was taken over by the Statue of Liberty. Other theories say her image simply became associated with years gone by, and she gradually faded away.