On March 7, 1876, Alexander Graham Bell was granted a U.S. patent for his invention of the telephone. See if you can answer these trivia questions about Bell's life and contributions to the world.
Who Was Bell's Closest Competitor for the Telephone Patent?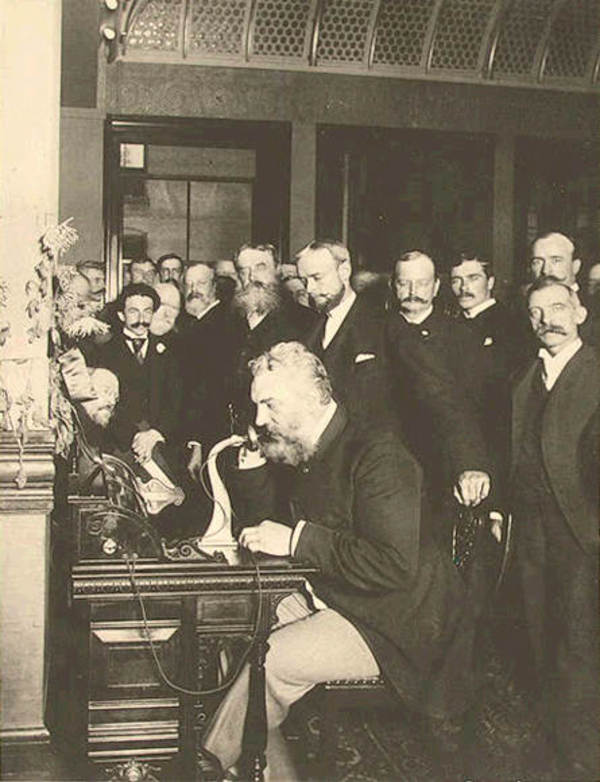 This photo was taken in 1892 as Bell made a call from New York to Chicago, opening long-distance service. Photo source: WikiCommons Bell was not alone in his quest to develop a device that could transmit the spoken word over wires. In fact, several other inventors were pursuing similar projects at the same time as Bell. Among those racing Bell to develop the first successful telephone were Elisha Gray, Antonio Meucci, Thomas A. Edison, and Charles Bourseul. Of those, Gray was right on Bell's heels. Bell filed for his telephone patent barely two hours before Gray made a similar filing. Western Union, which had dominated the telegraph industry in the latter half of the 19th century, was desperate to get in on the telephone business as well. To do so, the company hired Gray and Edison to develop their own telephone system, but Bell sued to block Western Union's effort. The legal dispute eventually reached the Supreme Court, which upheld Bell's patent for the telephone.
What Two People in Bell's Family Had Serious Hearing Problems?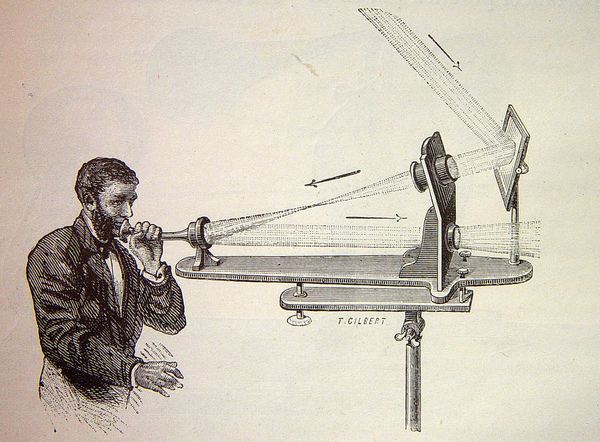 Around 1880, Bell invented the photophone, a wireless device that transmitted speech. It was the precursor of a fiber optics system. Image source: WikiCommons Both his wife, Mabel, and his mother had serious hearing problems. His wife was completely deaf from an early infection with scarlet fever, and his mother used an ear trumpet to hear. Bell said he would lean close to her when speaking so she could sense the vibrations from his voice. Bell's interest in helping the deaf led to a number of his inventions. In 1872, when he was 25, he opened a "School of Vocal Physiology and Mechanics of Speech" in Boston.


Bell Was President of What Magazine? The National Geographic magazine as we know it today was largely the brainchild of Alexander Graham Bell. He was the second president of National Geographic, taking over for his father-in-law, Gardiner Hubbard, the magazine's first president. At that point, the magazine was struggling, and Bell revitalized it by including dramatic photographs that told a story and by adding interesting illustrations. By 2015, the magazine was published in 40 languages and had a readership of 6.5 million.
What Did Bell Invent in Haste to Try to Save the Life of a President? Bell invented a metal detector at the time of President James Garfield's assassination in 1881. Garfield was shot and physicians attending to the president were unable to locate the bullet, so Bell hastily invented a machine that used electromagnets to detect metal in an attempt to save Garfield's life. The machine might have worked better if Garfield had not been lying in a bed with metal springs, and the president died of his wound several months later.
How Did The Phone Companies Honor Bell on the Day of His Funeral? Bell died on August 2, 1922, just a few days after his 75th birthday. It's a common custom to hold a minute's silence when someone of note has passed away, but for Alexander Graham Bell, a remarkable tribute took place after his funeral. Every phone in North America was silenced for a minute in "honor of the man who had given to mankind the means for direct communication at a distance." There were more than 14 million telephones in the United States by the time Alexander Graham Bell died. For one minute on August 4, 1922, they were all silent.